Three Reasons Why Job Creation MUST Be a Part of the HUGG Mission
Posted by Natul Middlebrook on
Tens of thousands of anti-government demonstrators marched in Port-au-Prince Sunday to demand the resignation of President Jovenel Moïse. (Edris Fortune/EPA-EFE/REX/Shutterstock)
In light of the current crisis in Haiti, I was asked why we didn't just let go of the business-side of HUGG and function like a traditional non-profit. We could stop the hemorrhaging of problems brought on by trying to run production in a very unstable country. We could highlight our Teens in Transition programming, the heart behind our work, and raise funds to ensure their success. Afterall, we would still be equipping and empowering young orphaned men so that they can break the cycle of orphanhood.
Surprisingly enough, the question didn't offend me like it would have in the past and unlike the past, I didn't have a quick retort.
I needed a few days to pray and think, cry and feel, and simply take the time that I never take because this train ain't got time for pit stops.
I knew I needed to answer the question with the utmost wisdom and discernment.
I want to share with you, HUGG supporter, the three reasons why I refuse to drop the business-side and insist on finding a version of our model that works.
Please read them and then take a moment to answer the question that I pose at the end.


1.

Jobs Instill Dignity

"All my life people have seen the palm of my hands and for the first time, people get to see the back of my hands, too."




This was Marcial's answer when I asked him what it felt like to have a job. A job that pays a fair wage for a person that has begged all his life is powerful. What Marcial meant by this is that for the first time he could give money to a begging child on the street, he could pay for food from a local street vendor, he could use his hands to work. Out of all the things we can give an adult like shelter, food, clothing, education, skills--a job is the most sustainable and opens up doors for him to become a giver to his friends, family and community.




At HUGG, we focus on instilling basic workplace expectations that many of us take for granted. Things like clocking-in, calling in late for work, conflict resolution, basic bathroom etiquette, don't give out our address to loan sharks. Okay, so the last one is not so basic but believe me---aside from artisan skills, there are so many lessons to learn in the workplace and these things equip young men to succeed beyond their employment at HUGG.



Marcial working on macrame bracelets at HUGG's first workshop
2. Business as Missions
I've loved getting to be part of a narrative that builds up Haiti. I started this social enterprise, not out of pity, but because I saw potential in former street boys who were using their hands to craft street bracelets. I learned their stories, ate their food, swam in their beaches, praised in their churches, spoke their language and tried very hard to have the same pride for their country as they have.
All of us who have started businesses in Haiti have seen firsthand how commerce is changing the lives of the people with whom we've shared life. To see so many businesses come to an end because of corruption and greed among a powerful few is despicable and the injustice of it all makes me want to throw up.
All of us who've started social enterprises in Haiti are resilient people who overcome challenge after challenge. We've accepted the risks involved in running production in a very unstable country and yet many of us are struggling right now. We've worked so hard to build a narrative that highlights the beauty of Haiti and find what is happening right now so disempowering.
HUGG has been hit hard. We've had raw materials stuck in port for months, we've had trouble getting product out and its all happening during our busiest time of year. So my choice is to wait it out at the risk of running out of money or start production elsewhere. The question then becomes, "Do we believe in the mission behind the business strongly enough to start all over elsewhere?"

3. Fashion Fuels Change
The reason we stick with this model is because with all of its complications, we know that people's purchasing power here is allowing people to change their lives there. The fair trade space allows for meaningful exchanges to take place between people that will never meet, but both benefit in powerful ways.
While our programming, meaning the Teens in Transition, is the heart behind our work, the business side has been the hands that fuel the mission of equipping and empowering orphaned young men with Jesus and jobs. It is this aspect of our work that I feel most passionate about and that I refuse to see come to an end.
Since 90% of our operations are covered by our sales, it is critical that we:

My question to you is the following:
Do you believe that the HUGG Mission is worth fighting for? If so, will you take your place in the fight by purchasing, donation and praying for us?
I believe that together, we can continue to fuel change for young men like Marcial. My prayer is that he will be able to continue to show the back of his hands with dignity.

"May the favor of the Lord our God rest on us; establish the work of our hands for us-- yes, establish the work of our hands." - Psalm 90:17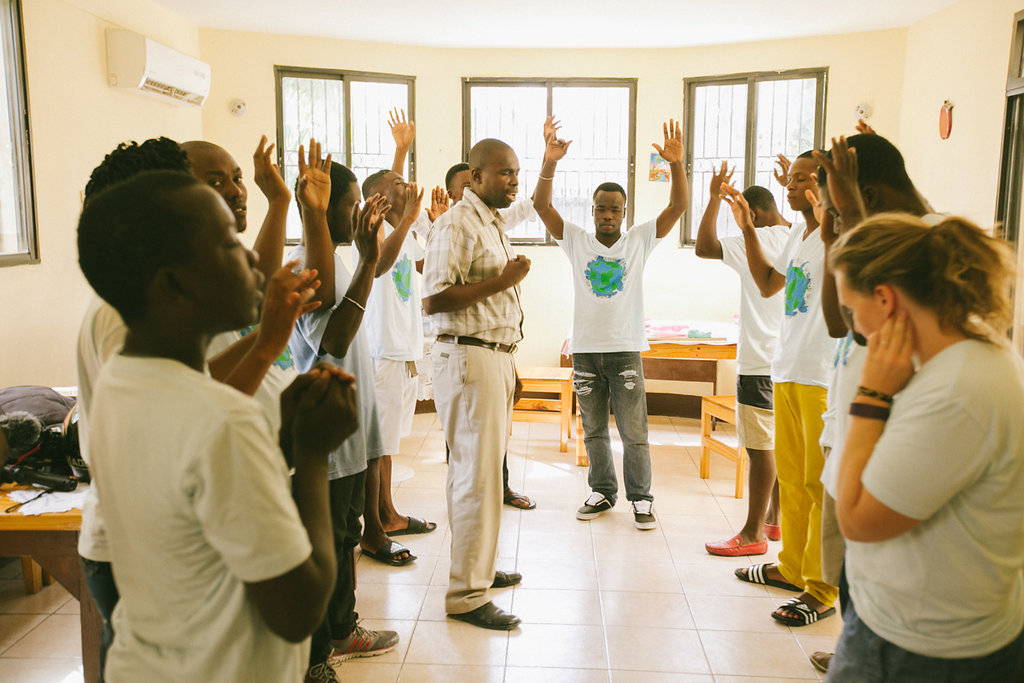 ---
---
0 comment