Hooray for Chicken Chardonnay!
Posted by Natul Middlebrook on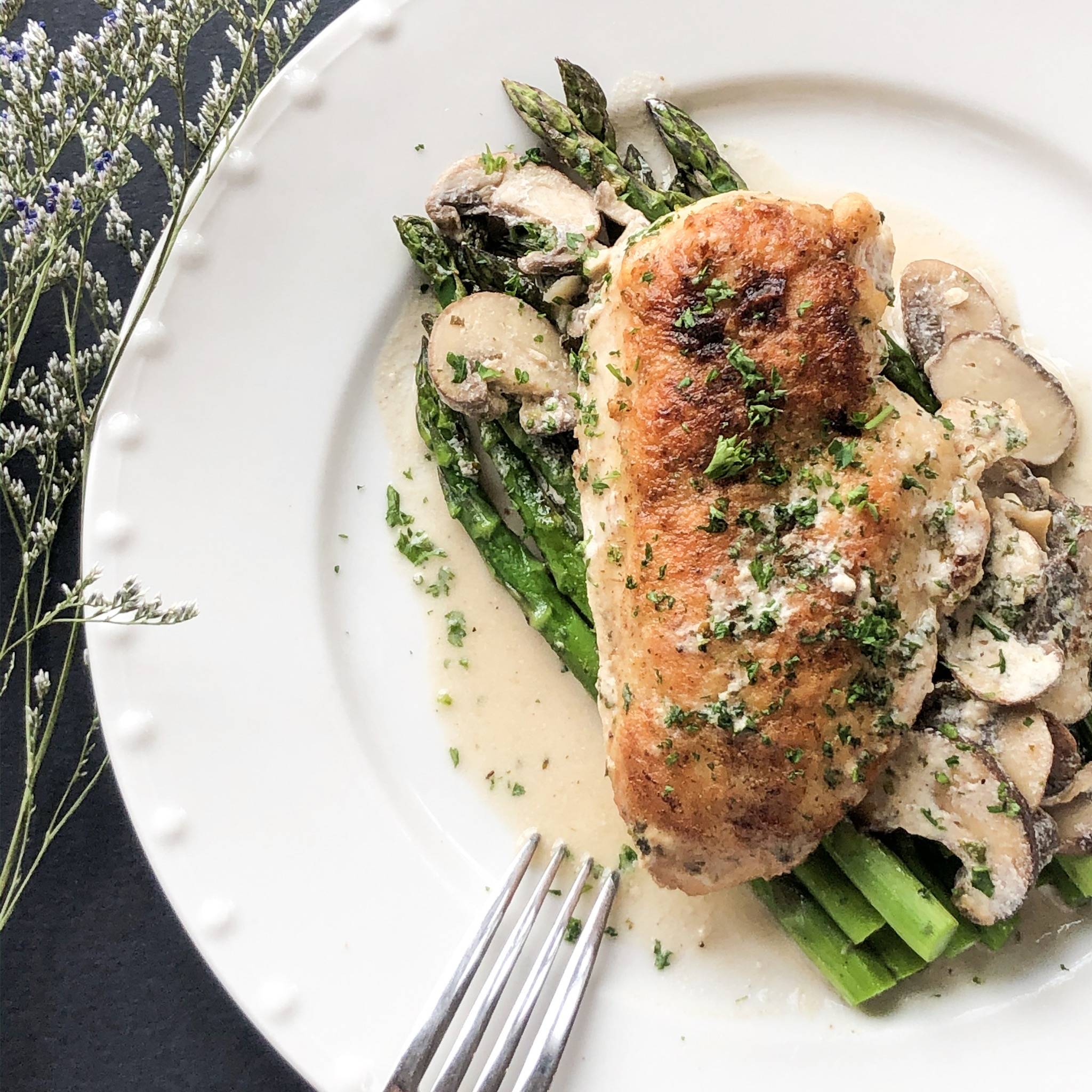 Imagine the joy in my heart when I spotted these Fair labeled bottles at my local Whole Foods!
I wanted to learn more about Stellar wines, which not only boasted a Fair Trade certification but also organically grown grapes...
Do spill the wine, por favor 'cause this girl wants to know more!!!
This socially-conscious vineyard is doing more than it's fair share to ensure that both the environment and the people who work the vineyards are respected and even go as far as creating development initiatives to improve the South African communities in which their workers live.
"Stellar has built a reputation for doing business with integrity, of finding new ways to work and live together, and of building something bigger than all of us. This remains our philosophy."– Willem Rossouw, Managing Director
Did not Disappoint.
I was a little nervous about tasting this Chardonnay because I feared that flavor and uniqueness may have given way to attaining the Fair Trade label. However, what I got was a different story! Watch this video to see what I thought of the wine!
Perfect Timing!
Since Hubby's birthday was coming up, I wanted to make him one of his favorite meals--Chicken Chardonnay. The timing couldn't have been more perfect because this man was going to get his first dose of this amazing Fair Trade wine served up on a plate of DELISH! Happy Birthday, Daniel!


4 Large Chicken Breasts
1 C FlourSalt/Pepper to Taste
2 TBLspoon Grapeseed Oil
3 TBLspoon Butter
5 Cloves Garlic, Minced
¼ Bunch of Parsley, Minced
1 LB Baby Bella Mushrooms, de-stemmed, sliced
1 ½ Cup Chardonnay
*1 Cup Heavy Cream
*I experimented with Half and Half in my video, but MUCH PREFER the heavy cream. Go ahead and embrace the richness of this dish :)
Pre-heat oven to 375.
Season chicken breasts with salt and pepper.
Douse lightly in flour and set aside.
On high heat, melt 1 TBL butter, 2 TBL Grapeseed oil in oven-proof Saute Pan.
Brown chicken breasts for 3 or 4 minutes on each side. Set aside.
Lower heat in pan, add garlic, half of minced parsley, mushrooms and 1 TBL butter. Season with a little salt and pepper. Cook down for about 10 minutes or until mushrooms are soft.
Increase heat and add 1 cup Chardonnay and reduce for about 5-10 minutes or until reduced by about half. Slowly add the heavy cream (or half and half). Lower heat, add chicken to pan and cook in oven for about 25-30 minutes or until chicken reaches inner temp of 165.
Sauce should coat the back of a spoon. Garnish with remaining Parsley.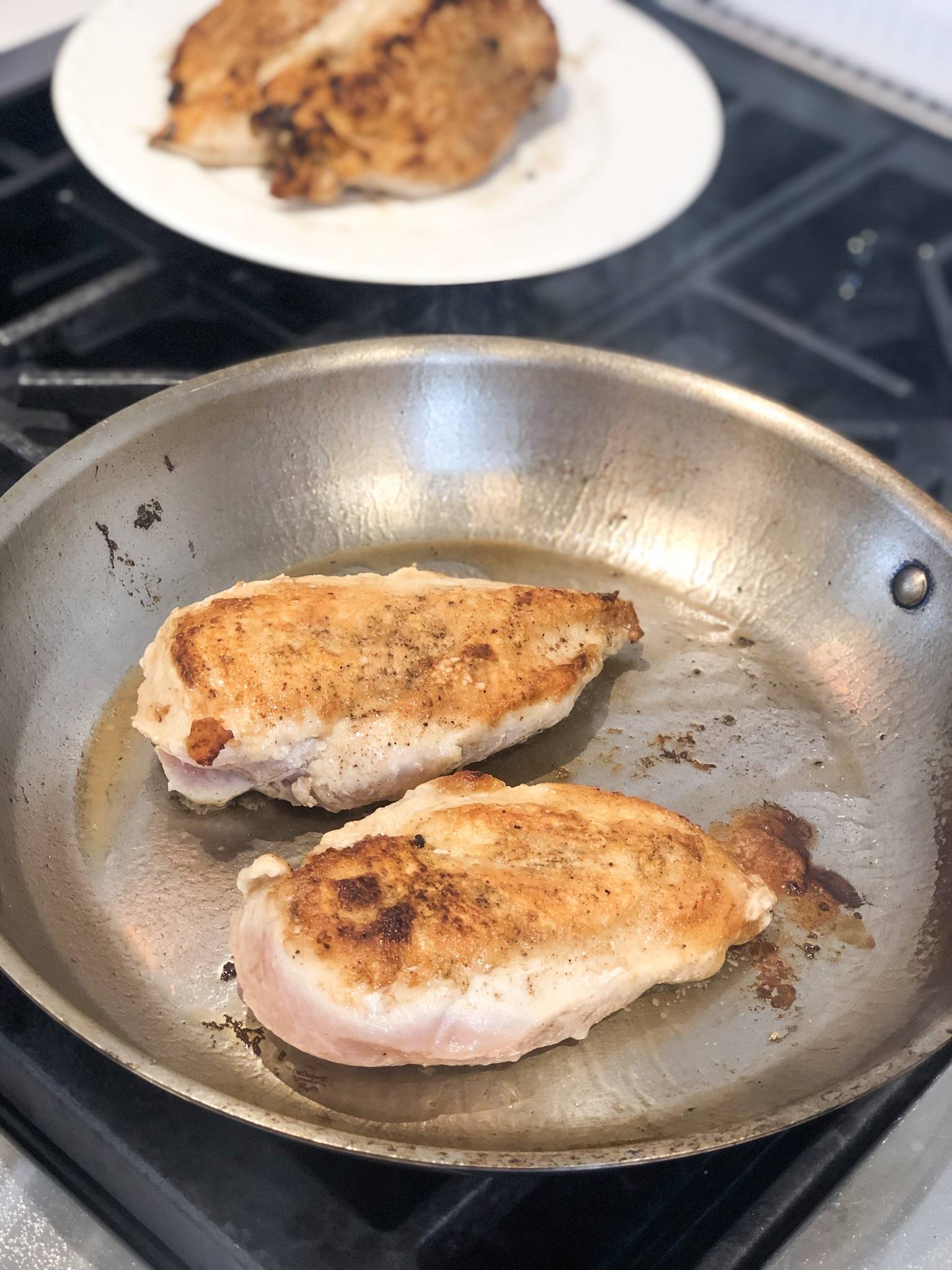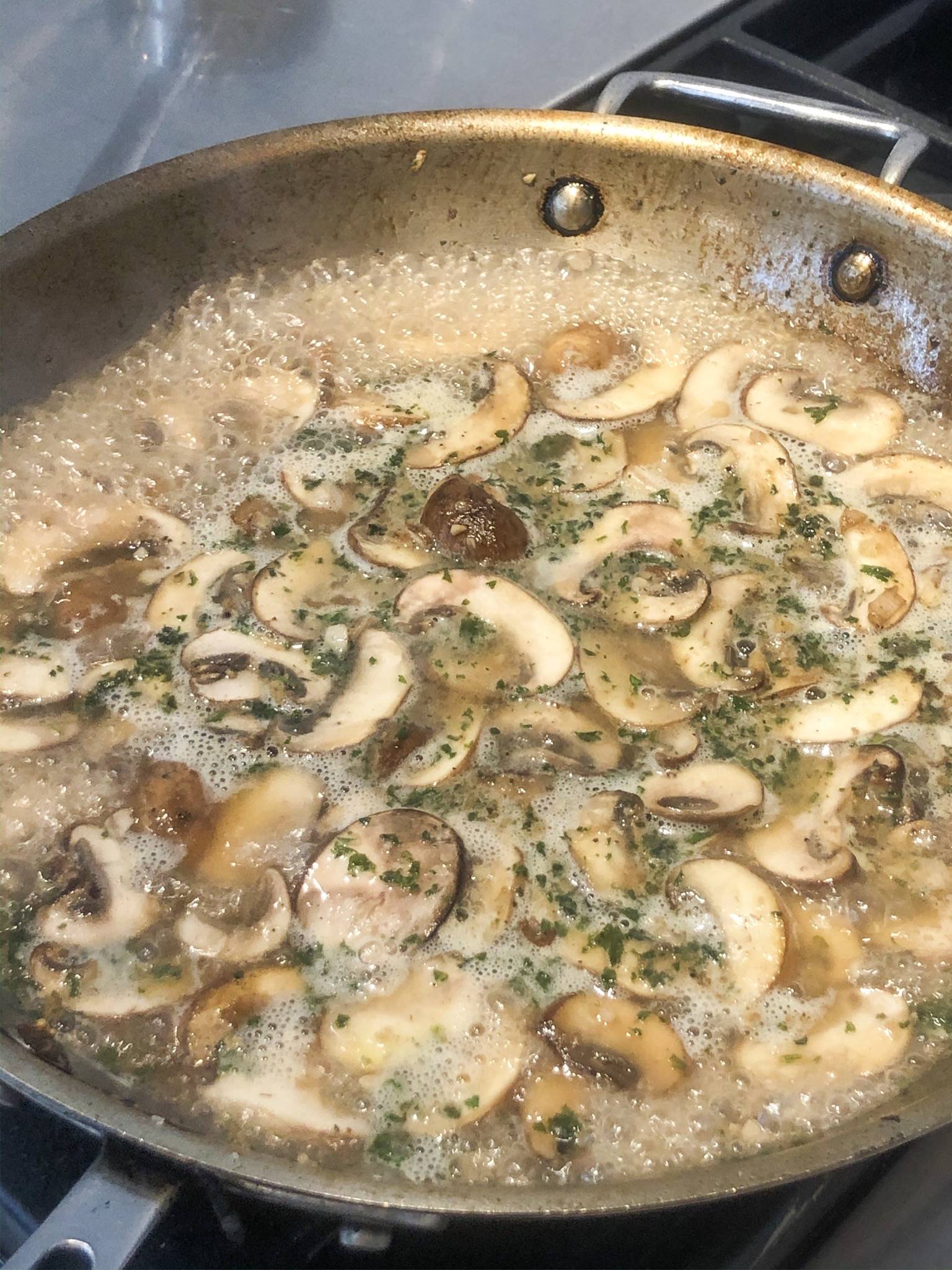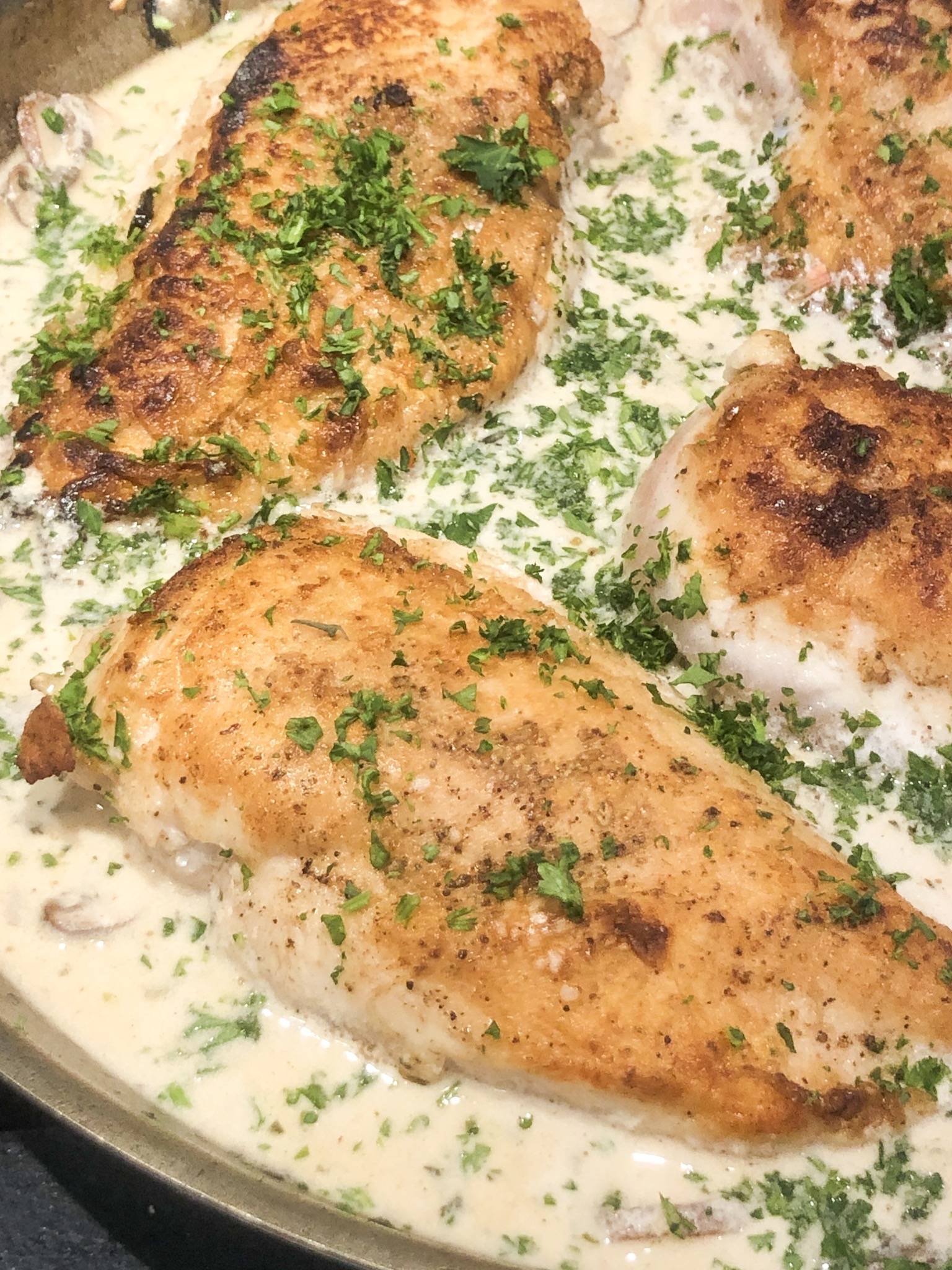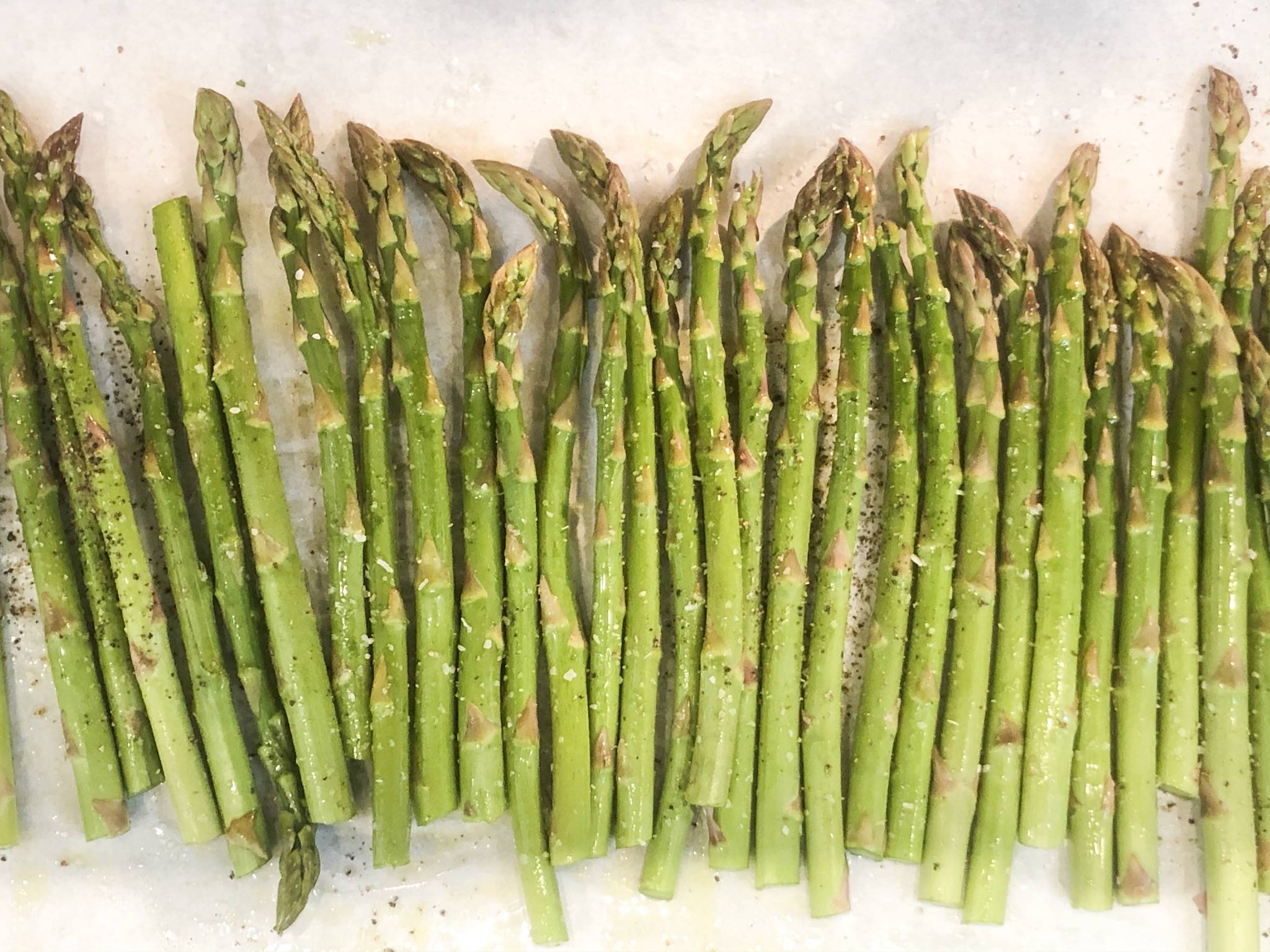 Serve It:Serve over a bed of pasta or over a bed of roasted Asparagus with a chunk of crusty bread.
For presentation, place chicken over asparagus, spoon mushrooms around chicken and ladle a small amount of sauce over and around chicken.

---
---
0 comment