Thighs or Breasts? (We're Talking about Chicken, People!)
Posted by Natul Middlebrook on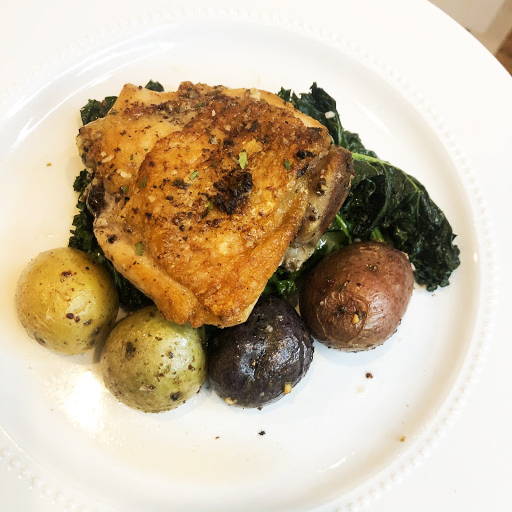 I once heard a chef instructor say that the U.S is the only country trying to avoid fat while most of the world spends their time searching for it. While we look for chicken breasts, other cultures treasure the dark, fattier parts of poultry. While we favor lean filet mignon, others cook the fatty organs for nutrition and protein. Yet, we are still the most obese country in the world.
Lesson here? That lean and white is not always a "must" to attain optimal weight---AND, may I add, it's certainly not where the flavor hangs out. Plus, choosing to go dark when it comes to purchasing meat is also easier on the pocketbook. I'm not saying give the breast the boot--I'm just saying don't knock the thighs until you try them. (Boy--we can go MANY unsavory directions with this paragraph--again, talking about chicken, people!)

Last week I introduced you to Burlap & Barrel, in addition to their amazing chili peppers, I purchased their Cured Sumac.

Here's the Scoop on this Perky little spice:

Our spectacular cured sumac grows wild around Gaziantep, Turkey, where instead of being dried, it's chopped and packed in salt to preserve it. It has a bright, sour, salty and slightly fermented flavor, and is one of our most popular spices among professional chefs and home cooks alike.
I know that Garlic and Sumac (what doesn't pair well with garlic, right?) pairs well together and I had chicken thighs in my freezer from this month's subscription to Butcher Box. So I decided to create a magical little concoction of sumac, garlic, dried parsley and olive oil.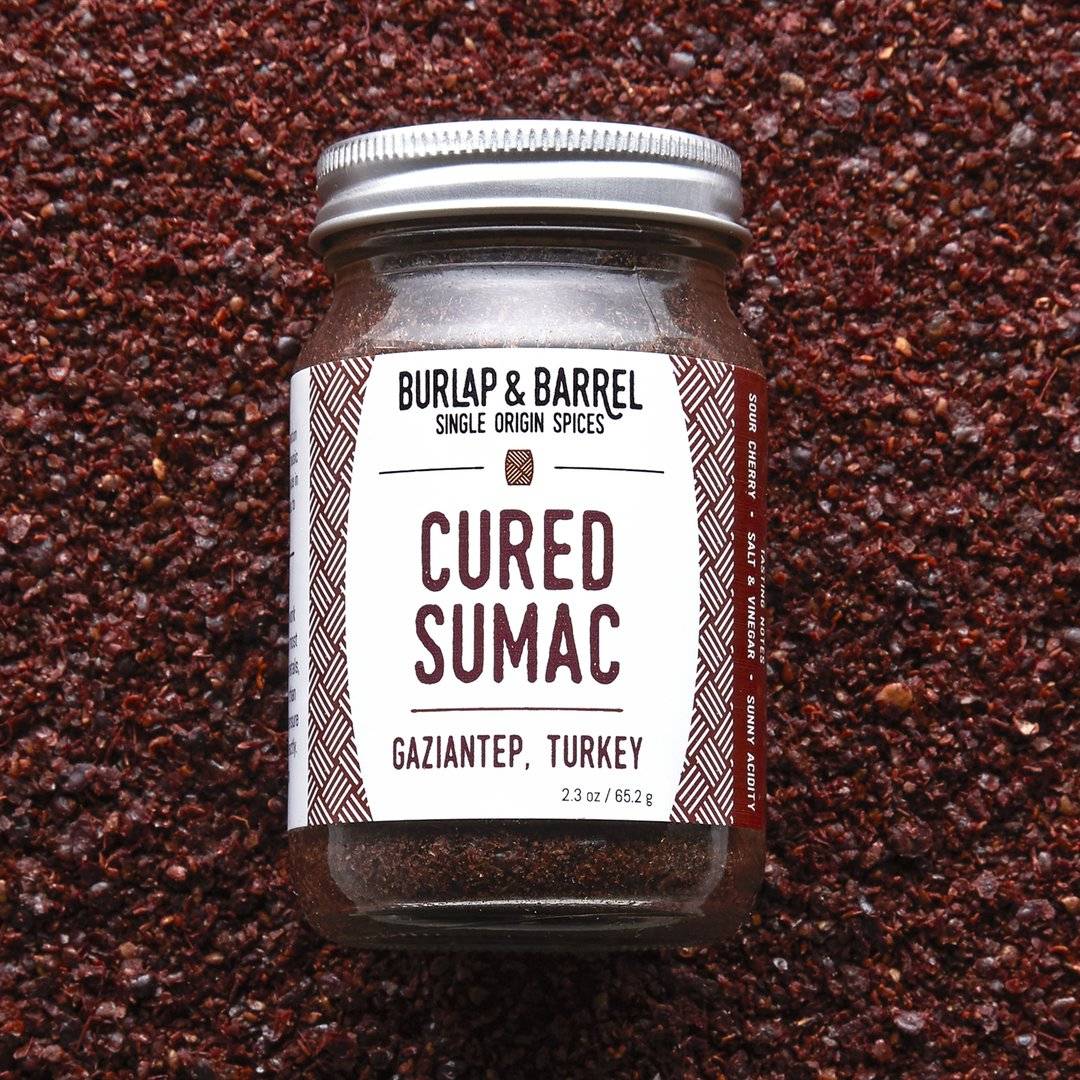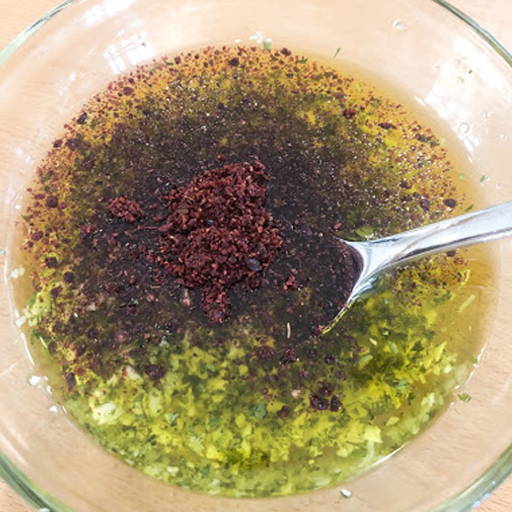 The sky is the limit with this little bowl of heavenly goodness--but I took out the defrosted Butcher Box thighs, baby potatoes and ran to the store to grab some fresh Kale!
Ready for the recipe? Can I get a Kale yeah????

Chicken Thighs, with skin (6-8)

2 lbs Baby Potatoes, as small as you can find them

Garlic, 8 cloves, minced

½ C Olive Oil1 T Kosher Salt

1 T Dried Parsley2 T Sumac

2 T Vegetable Oil for searing

¼ C water

Salt & pepper for chicken
Preheat oven to 375 degrees.
To prepare the seasoning blend/oil rub, mix the minced garlic, parsley, salt, sumac in a small bowl and slowly drizzle with ½ cup of Olive Oil. *Note--I added the salt to my garlic as I minced it, it helps with the mincing process and it's crunching sound is oddly soothing...just saying.)
Place potatoes in a 9x13 glass dish and add enough of the oil to rub into the potatoes. Don't drown them.
Give them a 20 minute head start in the oven (about what it will take you to sear 2 batches of chicken). *Note: Never let your protein touch while searing, it will create steam and steam is an enemy of searing.
Pat thighs dry and lightly season with salt and pepper. (We don't want to burn the minced garlic so we will add rub after searing.)
In a skillet, sear thighs skin-side down in vegetable oil (I like Avocado Oil) for about 3-4 minutes on one side only. Remove from heat.
Drizzle about ¼ C oil rub or brush the chicken with silicone brush. You want to cover these babies front and back. Reserve remaining rub for Kale.
Place thighs over potatoes, which should be in the oven. Cook for another 20 to 25 minutes or until chicken is at 165 and potatoes are fork-tender.
While chicken is roasting, trim the stalks off the kale and remove the thicker veins. Toss in same skillet chicken was seared in and add remaining oil mixture plus ¼ cup of water. Cook over medium heat until Kale is slightly wilted.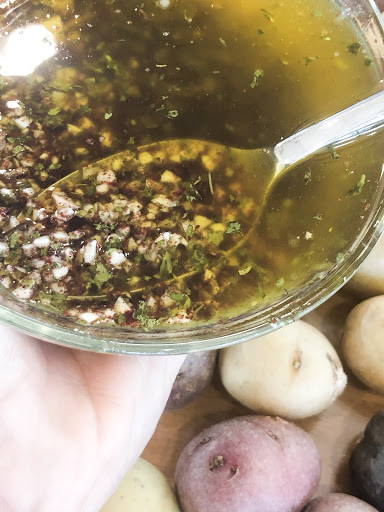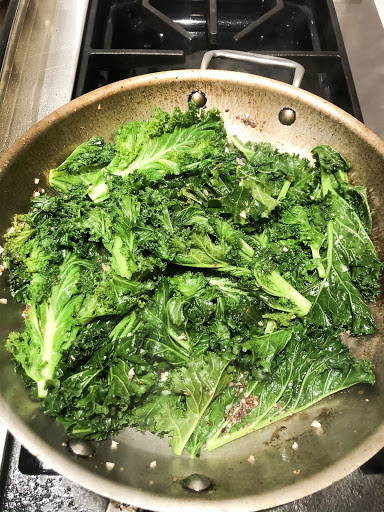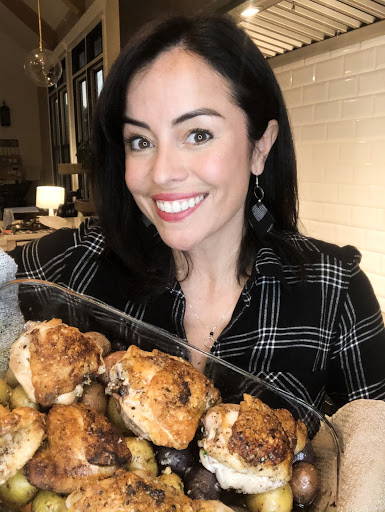 Lay the kale onto a plate, top with 1 or 2 thighs and a few potatoes on the side.
Drizzle with some of the juices reserved in the casserole dish.
Enjoy some delish, garlicky thighs with the tangy and vibrant notes of Sumac.

Impact:I want to inspire you to CONQUER your kitchen by delving deep into your spices and venturing into other cultures. Also important, is to create an awareness on how what we cook affects communities. It's not just about being good to our bodies, but also about being good to the world by choosing to buy organic and Fair Trade whenever possible.Be sure to share your results with me by emailing me at natul@huggmarket.org or posting on your social channels and tagging @huggmissionmarket.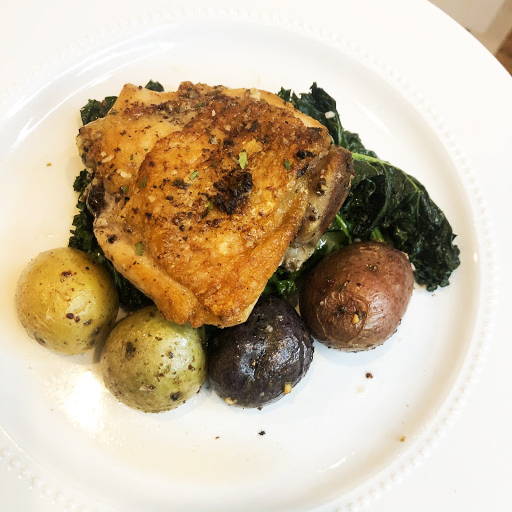 ---
---
0 comment